General fund donations
(any amount)
What can YOU do to help stop these trends and the suffering of millions in sex slavery?
DONATE
FACES OF HIDDEN SLAVERY is a non-profit organization. It's simple and safe to donate on-line! Click the button to the right and donate through PayPal, making sure you enter all required information.
You can donate one time, or you can donate a recurring amount monthly...either way, you will be helping to stop the sex trafficking trends plaguing the Himalayan region. And your personal financial information remains hidden. We only receive your name, address (if provided), and your donation amount.
A donation receipt will be sent to you or you can print your receipt from your donation successful screen.
HELP NEPAL EARTHQUAKE VICTIMS
Due to this tragedy, Nepali girls are at a very high risk of being trafficked now. Purveyors come across the borders into villages where family members are injured, missing or dead, seeking vulnerable girls. We are sponsoring the YouCaring.com campaign: Crisis of Himalayan Mt Girls. Please click on the link below or copy and paste it in your browser now to join with us on this urgent campaign.

T.A.T - Trekking Against Trafficking
This is a new option which allows you to trek through various areas of the Himalyan region and secure sponsors for your trip. Each day you trek, you can raise monies to fight trafficking by acquiring sponsors at $25 a day. You donate the total raised to FOHS online through Paypal etc. and at the end of the year, you will receive a receipt for your tax deductible donation from our organization. You may arrange your own trek or we can set it up for you through our Himalayan Mt Travel Agency.
List of all tour and trek options:
NEPAL TREKS
Annapurna Trek
Annapurna Base Camp Trek
Snow Leopard Dolpo Trek
Dhaulagiri Trek
Mustang Trek
Upper Mustang Trek
Island Peak Trek

BHUTAN
Please email us if you are interested in more information about these treks. We will send you all the details and step by step instructions if you decide to take a Trek Against Trafficking.
Other ways to help:
Advocacy - writing letters to your senator or congresspersons calling for stiffer penalties for traffickers, such as life in prison.
Advocacy - inviting someone from FOHS to speak at your conference on this issue to inform the public of this tragedy and the lives being destroyed.
Advocacy - writing about this travesty in newspapers, magazines etc.
Prevention - assisting agencies in assisting developing countries where extreme poverty is rampant, where there is gender bias in the traditions and cultures, family breakdown and abuse, and HIV/AIDS.
Intervention - supporting homes for orphaned children in countries that are a major source for child prostitutes; rent, food, school fees and clothing is needed.
Intervention - supporting homes for young women that have been victimized in the sex trade to help them to become self supporting through micro-businesses.
Healing and Restoration - supporting national counselors in these "source" and "destination" countries and those training the counselors to see healing and restoration of children, teens and women so they can have hope of a better life.
Donate to our organization using the button at the top of this page or see the "sponsorship opportunities" box below.
Provide a Home
Help us provide a home for many of the very young girls who are only six or seven years of age who live  and sleep on the streets. Our goal is $125,000.

---
Partner with us in sponsoring a home for girls to help rescue them from the streets.
Select your preferences and click the "Sponsor Now" button below to have your sponsor amount automatically deducted each month via PayPal.
Or, if you prefer, you can email us with:
name
address
sponsorship level at which you wish to contribute
A member of our staff will contact you with further instructions.
---
Sponsor a home for 3 girls: $100/month
---
Sponsor a home for 6 girls: $200/month
---
Sponsor a home for 9 girls: $300/month
---
There are 3,000 chldren living on the streets of a major Himalayan mountain city and nearly half of them are girls. We need funds for a larger drop-in center and model homes to be built. The annual budget is as follows for our new projects and goals:
Temporary Safe House for children; food and space, etc ......... — $15,000
Build and operate one model home (includes land) ................. — $40,000
Sixty couples to house and care for children (12 per home) .... — $30,000
Child development center ............................................................... — $20,000
Drop-in center for street children ................................................... — $20,000
Total Budget annually ..................................................................... — $125,000
Over 1,000 girls are at risk living on the streets in our Himalayan Mountain city. Just think: if 300 people took three girls each what a difference it would make!! Please help sponsor these small children's homes.
NEW BEGINNINGS HOMES
Every person is valued and loved by God—and should have an opportunity for good health and happiness, and not be deprived of food, clothing and other basic needs. Yet in our world many are sleeping on the streets, unaware of God's love and provision for them. How does God provide? He uses individuals—people like you, who love as He loved us. There is a great need to see these little ones' lives redeemed. Faces of Hidden Slavery is dedicated to assisting these desperate women and children. wherever they are located, giving them hope and a real future. Our hearts are caught by these disgraceful issues.
We will have a total of three homes, two for little girls and one for disabled boys, in SE Asia. At present we have one home for girls and need sponsors for it. Few people are willing to take in street girls because there is much work involved. We are renting now, but need to pay a caregiver, a teacher and others. Later, we hope to build a home. A church leader has offered some land to use. Our homes are to be model homes for others. Only a few pastors and leaders offer to make their homes available for children who have no one. Those homes also need sponsors. Only $100 per month is needed to provide for a home taking in three small street girls.
God's Hands Extended….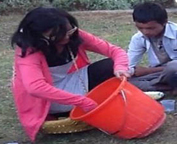 Street girls finds food
We desire to be God's hands extended and see many children healed who have been victims of:
Child Abuse
Violence
Imprisonment
HIV/AIDS
Poverty
Drug addiction
Slavery
Forced prostitution
Rape and incest
The New Beginnings Program is recruiting competent teachers and caregivers. Find out how you can sponsor a small New Beginnings Home for about $100 a month. Ask some friends to join you and sponsor a home for six street girls at $200 a month or you may recruit your association or club to sponsor a large home for twelve girls at $300 to $500 a month. See the "Sponsorship Opportunities" box on this page.
We welcome both your financial help and your prayers for God's direction, guidance, and compassionate care.
| | | |
| --- | --- | --- |
| | | |
| Village children at risk of being sold | Free education at Christian school | Abandoned baby found in soccer field |
We believe in prevention. It is a huge task. Each girl is important to God. We can make a difference together. Why not commit now to save a girls life?
For more information or other ways on how you can help please email: info@facesofhiddenslavery.org.