NEPAL EARTHQUAKE
Due to this tragedy, Nepali girls are at a very high risk of being trafficked now. Purveyors come across the borders into villages where family members are injured, missing or dead, seeking vulnerable girls. We are sponsoring the YouCaring.com campaign: Crisis of Himalayan Mt Girls. Please click on the link below or copy and paste it in your browser now to join with us on this urgent campaign.

| | |
| --- | --- |
| | |
| Aftermath | Girls sit in rubble |
| | | | |
| --- | --- | --- | --- |
| | | | |
| Hot food! | Girls in extreme poverty | New clothes | Girls need a safe place |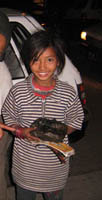 Someone cares!
Approximately three thousand boys and girls live on the streets in a large Himalayan Mountain city. There are noticably more boys than girls. However the girls stand to lose the most; their virginity and innocence to those who buy and sell children and those who use children in the sex tourism trade. The boys beg and run errands for shopkeepers, sometimes getting a little money for a daily snack, rather than a real meal. Something must be done to get these girls in a safe place so they can grow and mature in a noral evironment.
Eyewitness account of abandoned girl on the street….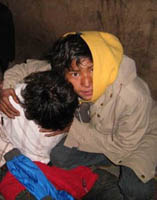 He's my brother
It looked like a pile of old dirty rags on the sidewalk, but no, there is a person under the rags. Is it a boy? No, a girl….Her head lying on the sidewalk is covered in matted hair, hiding the mostly dirt and soot-covered face. Smoke flows freely from the exhausts of buses and trucks that pass by missing us by inches. I pause as passersby push past me.
My daughter says, "It's a girl, Mom. She's always there when I go to class and to the store, etc., and she is always asleep."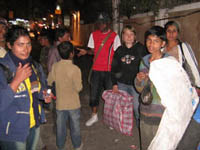 Our team gives food
She must be working all night every night for child sex tourists, as she was in a highly trafficked tourist area. I rummage through my bag, ignoring passersby who paus to see what I'm taking out, perhaps money they could grab for themselves. I find some pastries and a piece of fruit and place them under the girl. People look at me disgustedly as if to say, "Why bother? That's just her fate."
I wonder who she is, what is her given name, where did she come from, how long has she been living like this, is she mentally ill, who can take her in? I think of those who have children's homes and know that none would take in a six-year-old homeless boy, though he had only been on the streets for six months. Some friends took another six-year-old boy into their home after they heard how the first one was murdered for a mere $2.00!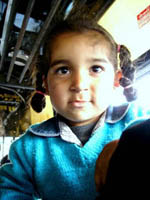 Where am I going?
Day after day, seven and eight-year-old girls stop me on the street begging, and I take them into a shop and buy them food. They are so delighted and happy to get just a little. I usually only see them two or three times as they are soon picked up by traffickers who sell them for $200 US. We desperately need a home for little girls. I can hardly hold back my tears as I think of "the girl" sleeping on the streets and the fate of the beautiful girls eight-to-ten years of age begging on the streets.
It's like the old Nepali tale of the man who saw a child drowning and saved the child. Then, the next day another child was drowning in the river and he rescued him too. Then, the next and next and so on. Finally, he realized someone was throwing those children in the river! He had to prevent this from happening! We combat trafficking through prevention!
FOHS and their partners have been in the brothels of India and seen women and children living in the worst filth imaginable! We have assisted those rescued ones mentally, physically, and emotionally in their healing process. Thousands of displaced and orphaned children are being used in child sex tourism, many are HIV/AIDS infected. FOHS desires to give them a future and a hope, through restoration and empowerment. Our director and founder has counseled in various programs for former prostitutes and mentoring programs for teen girls on the East Coast since 1977, working with senators and congressmen; advocating for treatment for HIV/AIDS survivors in third world countries. She began working to help oppressed women and children in South Asia ten years ago.